There is no denying Naples' status as one of the premier seaside communities of the world. On par with the likes of Santa Barbara on the west coast and Martha's Vineyard in New England, Naples is a celebration of grandeur along the Florida gulf coast. From its real estate to the local amenities to the city's annual calendar of events, everything here is first-class. Nowhere is the dedication to the extravagant lifestyle more apparent than with Naples' destination-worthy luxury resorts.


Far from a stuffy, reclusive enclave, Naples is a place the entire family can enjoy as well. So with an eye towards Naples' high-end beachfront getaways featuring something for the whole family, let's explore the seven best luxury resorts for your next vacation.
Make the most of your Naples vacation with these luxury resorts
9891 Gulf Shore Dr
Extraordinary elegance is present at every turn in Naples, from the homes to the restaurants to the resorts, but nowhere is it more extraordinary than at Naples' premier resort – LaPlaya Beach and Golf Resort.

Perfectly located on Vanderbilt Beach along the shores of the Gulf of Mexico, LaPlaya exemplifies the pampering lifestyle which travelers expect from the region. The entire property simply exudes class and quality, and top trade publications such as Condé Nast consistently rank LaPlaya as one of the best resorts in Florida.

The primary draw is the lush tropical surroundings. You'd be forgiven for thinking you'd lost your way on a remote Caribbean island. A recent makeover furthers the oasis-like atmosphere with bright, breezy guest suites overlooking the Gulf. It enhances established favorites like the award-winning beachfront restaurant BALEEN Naples, the meditative escape of SpaTerre Naples, and the gorgeous private LaPlaya Golf Club.

LaPlaya has more of a reputation as a premier romantic retreat than a top option for the classic family getaway. It is, however, the perfect location for those couples ready to take the next step in their relationship, especially for those seeking a beachfront wedding where family and friends can celebrate their union in luxurious style.
Upon arriving in Naples, it only takes a moment to recognize you're someplace truly special. After all, few coastal areas in the tropics can boast not just one Ritz Carlton Hotel, but two. As each is distinct enough with its variety of amenities and glamorous atmospheres, they both deserve spots on our list.
First, The Ritz-Carlton, Naples, exists to ensure you live your best beach life with every room in this elegant seaside beauty affording guests breathtaking views of the Gulf of Mexico. With three miles of private beaches, accommodations here are not only luxurious but exclusive.
Non-waterfront highlights include one of Naples' best spas – a glorious facility that features all manners of holistic treatments and an array of treatment rooms. The resort includes
six fine dining establishments
, each with its own unique menu and atmosphere. The resort is currently in the midst of a multi-million dollar makeover to set the bar even higher on already legendary service and commitment to providing guests an unforgettable experience.
While the Ritz-Carlton image is often geared towards adults, the resort in Naples recognizes the beach as a family draw. The resort features a family pool, children's activities, and the onsite Gourmet Shop with its treasure trove of homemade treats, including cakes, cookies, chocolates, and ice cream.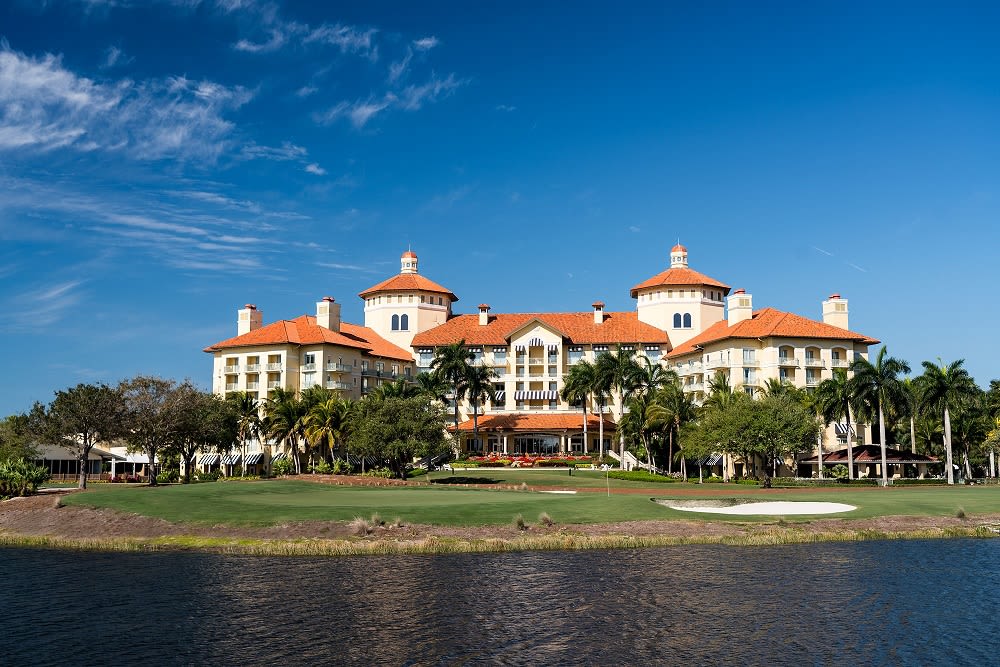 Four miles east of The Ritz-Carlton Naples sits its sibling property, The Ritz-Carlton Golf Resort. Offering two very distinct experiences, the hotels serve as an extension of one another and capture Naples at its finest – relaxing on the beach's white sands or hitting the links in a lush tropical setting.
The Ritz-Carlton Golf Resort is home to
Tiburon Golf Club
and its two Greg Norman-designed 18-hole courses, but there's more than this leisure sport at this exquisite inland property. As you might expect, the onsite Massage and Facial Center is a world-class facility that is a welcome respite for golfers, particularly those that tackle both Tiburon layouts in one day.
There are also three outstanding dining options onsite representing an opulent take on high-end country club cuisine. If you find choosing between the two Ritz-Carlton's an untenable position, there's a simple solution: stay at one resort, and you'll enjoy access to the sibling property's amenities.
If you have a family of golfers, then there's no better place to bond than on The Ritz-Carlton's 36 holes of championship golf. Regardless of age or skill level, you'll be pampered like a professional tour player while celebrating your on-course triumphs with the people you love.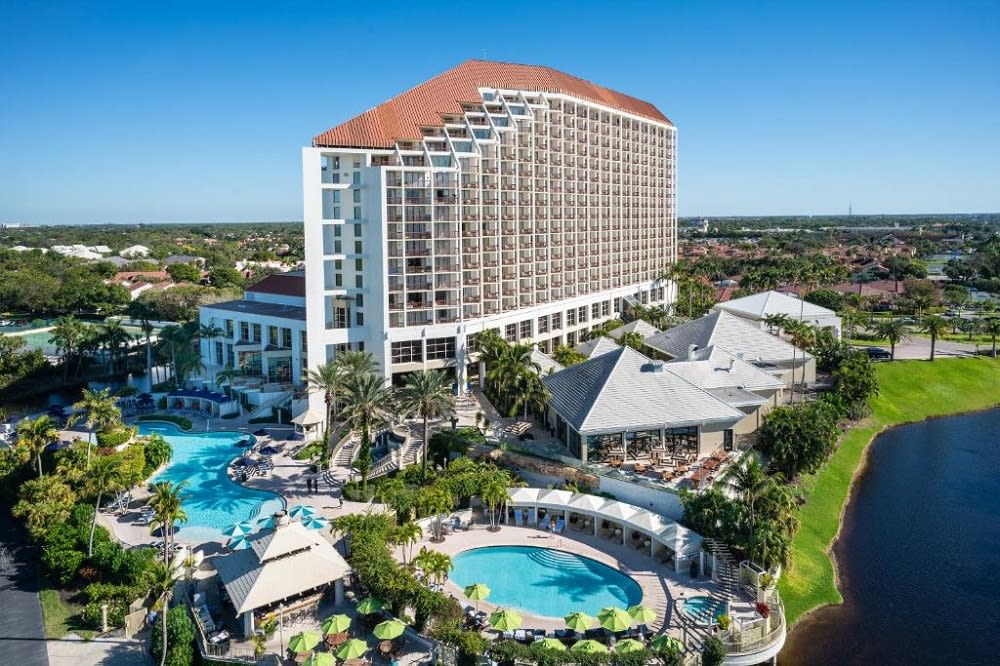 When focusing on high-end Naples resorts which cater to families, you cannot overlook the Naples Grande Beach Resort. Its eye-catching red-roof towers are a stunning landmark at the city's northernmost border and an indication you and your family are in for an unforgettable vacation experience.
The resort sits next to the
200-acre Mangrove Estuary
, a protected stretch of water and land forming one of Naples' most beautiful landscapes. Set back from the Gulf, the sea remains a central part of your Naples Grande stay. The beach is easily accessible via a five-minute tram ride or fifteen-minute boardwalk trek through the estuary - a magnificent way to witness the gorgeous local wildlife. Additional amenities include incredibly spacious rooms, a private beach bed, cabana reservations, three onsite pools, seven restaurants including the beachfront
Rhode's End
, access to The Spa at Naples Grande, fifteen clay tennis courts, and the Naples Grande Golf Club.
The Naples Grande affords even the largest families room to explore beyond the beach and estuary. The resort's Mangrove Pool features a 100-foot water slide winding its way around a rock tower and waterfalls. For families with kids itching to head off-site, the Sun-and-Fun Lagoon and Golisano Children's Museum of Naples is an easy ten-minute drive away.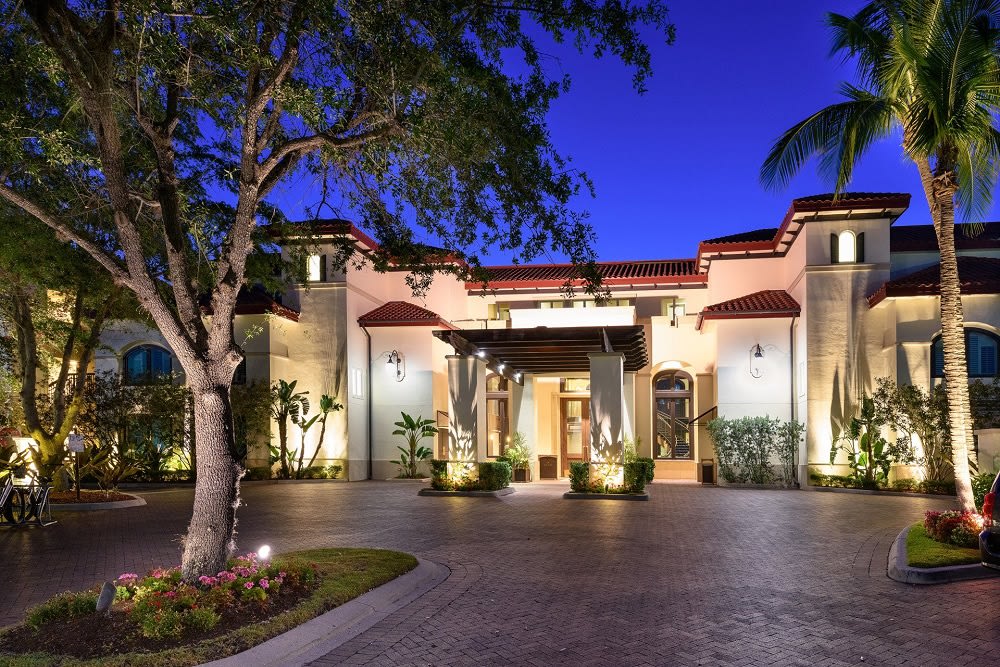 For those luxury-minded travelers drawn to the action and atmosphere of downtown Naples instead of Gulf waves crashing on the beach, the Tuscan aesthetics of Bellasera is an excellent choice. Located in Old Naples, mere minutes from both the beach and downtown, the all-suite resort boasts some of the city's finest accommodations, including full kitchens, making it a luxury-laden home away from home.
The property is tucked away from the city's more lively areas but close enough to be right in the thick of it whenever you so choose. In fact, the vast majority of Naples' best shops and eateries are less than a ten-minute walk away. The resort itself provides a fantastic list of upscale amenities, including a heated outdoor pool with poolside cabanas and a 24-hour fitness center. It also features live music at
The London Club
and Bellesara's indulgent onsite restaurant,
The Claw Bar
.
For a change of pace, Bellasera is an ideal gathering space for families with adult children who've yet to start families of their own. Given its prime location close to it all, Bellasera is ideal for those who want to dine, shop, and enjoy late-night conversations and cocktails with those dearest to them.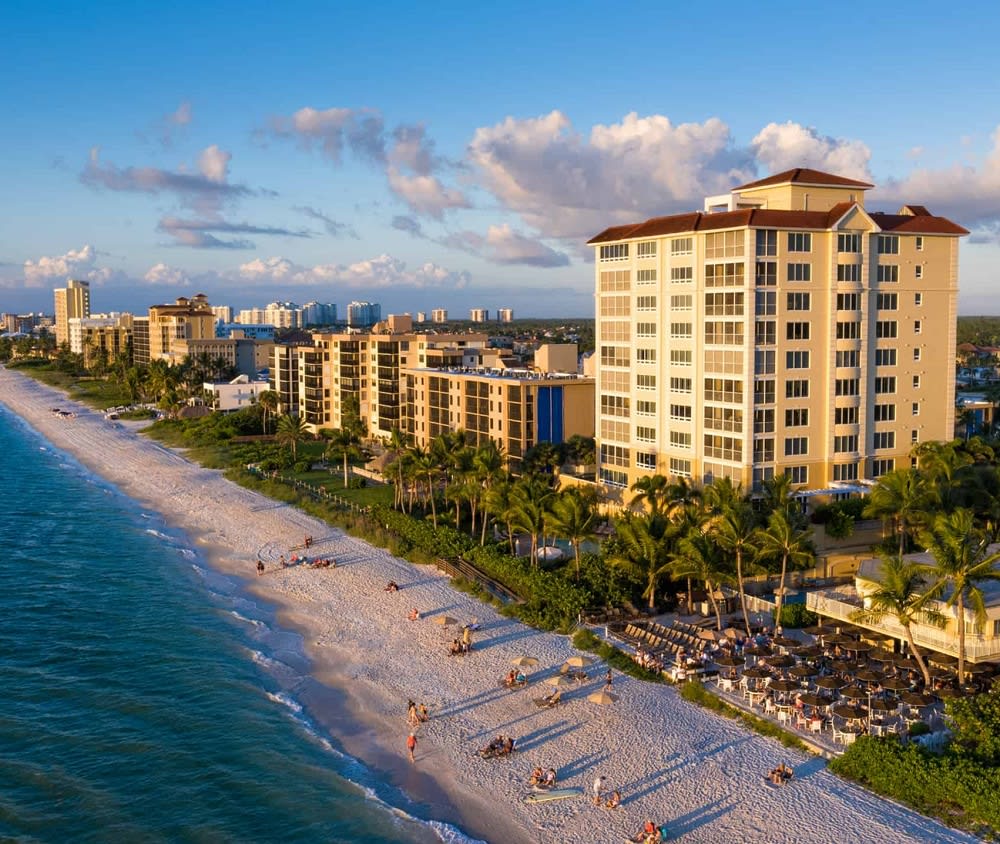 The Vanderbilt Beach Resort is a favorite among locals and travelers from across Florida and the country, even if it's not the most flashy of the resorts in Naples. The original resort finished construction in the early 1960s and stood as the only hotel on the beach for over a decade.
For three generations, the Moore Family has owned and operated the property with a friendly, gracious approach to providing guests with laid-back hospitality. Highlights of the Vanderbilt include direct access to the white sands of the Beach, a heated pool overlooking the ocean, full beach service, a variety of room options, including studios, suites, and well-appointed condominiums.
Though it doesn't feature the dazzling opulence of La Playa or The Ritz-Carlton, the Vanderbilt Resort plays host to one of Naples' best, most distinguished restaurants - the outstanding beachfront experience of
The Turtle Club
.
If the lineage of ownership isn't indication enough, the Vanderbilt specifically caters to families. Practically every amenity offered envisions families partaking in fun together. Paddleboarding, complimentary bikes, and tennis and pickleball courts overlooking the Vanderbilt lagoon make this an active resort the whole family will enjoy.
Interested in making Naples and one of its many luxurious communities your permanent or second home?
Contact Rigsby Team today
to start your home search. Together, we will explore the absolute best of Naples – from its grand, lavish resorts to the luxury real estate that makes this one of the world's most extraordinary places to own property. Our years of experience, knowledge, and expertise will ensure you discover your perfect piece of paradise.

*Header: The Ritz-Carlton, Naples